home » activities
Sunshine Coast Activities and Things to Do During Your Stay at the Enchanter
Music | Galleries | Skookumchuck Narrows | Hiking | Parks | Golf & Tennis | Horseback Riding
Water Activities | Boat Tours | Air Tours | Diving | Fishing Charters
Pender Harbour's Music Festivals:
Chamber Music Festival: established in 2005 by the Pender Harbour Music Society, this very popular three-day event every August reminds us every summer, that "chamber music doesn't bite." For this year's Pender Harbour Chamber Music Festival Programme Details visit www.penderharbourmusic.ca/chambermusic
Pender Harbour Jazz Festival: Do you like to listen to world-class jazz? The Annual Pender Harbour Jazz Festival has venues that are intimate making it possible to see and hear up close some of Canada's finest musicians do what they love. The Vancouver jazz community provides many of the musicians with local and Canada wide musicians represented as well. This three-day event every September features ticketed and free shows throughout Pender Harbour and vendors in downtown Madeira Park.
Pender Harbour Blues Festival: established in 2004 by the Pender Harbour Blues Society, hosts a three-day event held at the beginning of June each year featuring ticketed and free shows throughout Pender Harbour. For this year's Programme Details visit www.penderharbourbluesfestival.com
Art Galleries:
Motoko's Original Art, Fine art Studio & Gallery in Garden Bay: Situated in Garden Bay, Pender Harbour, Motoko's Original Art, Fine Art Studio & Gallery is located at 4590 Sinclair Bay Road. This private studio and gallery has over 1,200 square feet in which Motoko exhibits her original art and her giclée limited edition prints. Experience the ambience of this beautiful, private gallery and enjoy Motoko's warm welcome. You are in for a treat.

Skookumchuck Narrows Provincial Park:


Many very popular trails are within 30 minutes drive of The Enchanter oceanview suites. A half hour drive will take you to the best-known trail on the coast which leads into Skookumchuck Narrows Provincial Park, where one may witness the awesome power of one of the world's fastest reversing tidal rapids. The native name Skookumchuck means strong (skookum) water (chuck). This premier sunshine Coast attraction is a 4 km (1.5 hr.) hike on a level, manicured trail with toilets and picnic sites to dramatic rapids with a backdrop of snow-capped mountains. > For best viewing times click here
Hiking: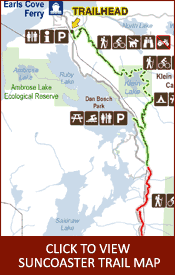 Imagine getting off the ferry in Langdale and being able to mountain bike or hike all the way to Earl's Cove through approximately 80 kms (50 mi.) of uninterrupted nature. Phase one, 37 kilometres of natural trail is now complete. The Suncoaster Trail between Earls Cove and Halfmoon Bay travels through old crown land forest roadways along a series of lakes and connects trails blazed through the brush with exit points near Sunshine Coast communities. The trail has been designed to accommodate hikers, bikers, horseback riders and in certain portions, even ATV's.
The trail itself is 6'-7' feet wide on good stable soils with gentle inclines offering a nice forestry environment and peek-a-boo views into wetlands, mountain view, water views, and creek views. One of the most scenic spots is beside a waterfall where a 68-foot (21-m) bridge spans Sakinaw Creek. There are easy exit points along the way so with a little planning you can hike during the day and enjoy the comforts and tranquility of our oceanview suites after an enjoyable day on the trail. We will pick you up at whatever exit point you arrive at and bring you back to your vehicle!
Nature enthusiasts can take advantage of Pender Harbour's mild climate, to discover a variety of trails either by foot, mountain bike, or with a 4 by 4. The Suncoast Trails Society and the Regional District maintain many of these trails which often include old skidder trails or decommissioned logging roads. While hiking through the enchanting rain forest trails, take time to admire the spectacular scenery, from seasonally snow-capped mountains to breath taking ocean views. Deer, elk, bears, eagles; among other wildlife still abound in this natural habitat.
To gain an appreciation of the Pender Harbour area and get a birds-eye view of the Sechelt peninsula, take a 30-minute hike up Pender Hill. For a steeper, 2.5 km (1 hr.) hike with an equally impressive view; hike up Mount Daniel whose trailhead is only ten minutes from our oceanview suites. The Pender Harbour website has a more complete list and description of trails and parks in the area.
FUNtastic Hikes and Tours: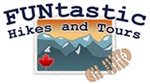 If you want to get outside and explore some of the amazing hikes the Sunshine Coast has to offer, but not sure where to start, Christina and Markus are here to help. Offering a wide variety of hiking tours from beginner to advanced, you will get to experience stunning views of the coast, soak up their knowledge of hiking and nature, and have a FUNtastic time! Touring to the Lower Mainland, Whistler and Vancouver will bring you to various amazing places in and around the pearl of the West Coast. Visit www.hikesandtours.com for more info or call 778-994-3317 or email info@hikesandtours.com.
Parks:
Pender Harbour's rainforest climate and aquatic location, allow for a wealth of parks including some of the most beautiful marine parks in the world. In 1998, the Francis Point Marine Park Society made it it's goal to protect a 180-acre block of pristine waterfront. This breathtaking waterfront is located just a few short minutes from the Enchanter Oceanview Suites. Some local parks in our area are that have either a trail or a beach are: Baker's Beach, Dan Bosch, Francis Point, Garden Bay, John Daly, Katherine Lake, Lions, Pender Hill and Skookumchuk.
Golf:
Located on the Sunshine Coast of British Columbia, Pender Harbour Golf Club is about five kilometres north of the community of Madeira Park (10 minutes from The Enchanter Oceanview Suites). Established in June of 1986, this 9-hole course was built with a unique combination of flat and hilly fairways. Water hazards are scattered throughout to add to the challenge of the game. The fairways are fairly tight, with elevated greens and tees that enable you to take in every great view of the surrounding mountains and scenery that is common to the entire area.
The 4th hole is the most challenging at Pender Harbour, where you drive 200 yards uphill and a further 200 yards downhill to the green. Weather permitting; the course is open year round.
Horseback Riding:
If you're interested in horseback riding, a ten minute drive from the Enchanter Oceanview Suites takes you to Malaspina Ranch Stables. Contact Malaspina Ranch Stables at 604-883-1126 in Madeira Park for guided tours.
Water Activities:
With three government wharves, Pender Harbour is a delightful haven for the boater. The Madeira Park government wharf provides the conveniences of showers, toilets, as well as a pumping station. Many resorts and marine pubs snuggled along the harbour, also have docks allowing the water enthusiastic to stop for refreshments. The Harbour penetrates over three miles inland, and its complexity of inlets and other dents gives it a total of 103 miles of shoreline. Until very recently, most travel was on the waterways rather than the twisting roads, giving the area its name of the "Venice of the North."
Of course, the best way to really appreciate the Sunshine Coast is to travel by water. The intricate waterways and scattered islands are made to explore, and there are several marinas and marine parks in the area. Launch a kayak or canoe and explore Sakinaw, Ruby or any of the smaller lakes. Rentals are available at the Madeira Park Government Dock from Malaspina Water Taxi & Tours.
Boat Tours:
See the world-renowned Princess Louisa Inlet or Skookumchuck Narrows! Check out this fantastic tour with Sunshine Coast Tours. A Slocat Harbour Tour is a great family outing taking in one of the most unique harbours in Canada. Guests always enjoy this narrated 1 1/2-hour tour of Pender's vibrant and historic harbour.
Air Tours:
Midcoast/Tofino Air offers tours from Sechelt to the Jervis Inlet. Check out their website www.tofinoair.ca for more information.
Diving:
The Sunshine Coast is ranked among Canada's best places to scuba dive because of the diversity of geological features and marine life. Divers come from all over the world to see the great array of marine life including the Giant Pacific Octopus and the deep walls of fragile cloud sponges. For more information on diving on the Sunshine Coast visit BC Recreation.
Fishing Charters:
Pender Harbour's myriad bays, coves, and passages offer some of the best sport fishing on the West Coast. For information on local boat charters contact Rick at Gulf Rascal Charters: www.gulfrascalcharters.com